We return another week with the review of the new cards that have come out in NBA 2K18 My Team in recent days. As always new content is still coming to the current basketball simulator although this week we have undergone a small change in planning.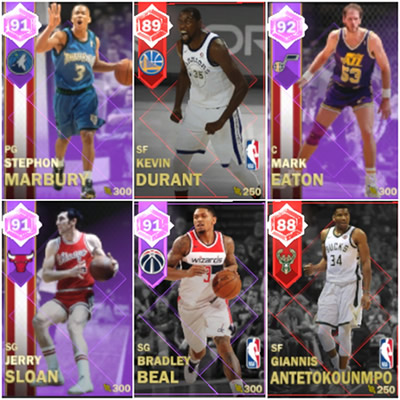 This week we have a lot of new historical letters in the envelopes "Throwback" and from now it is possible to complete up to seven new collections giving a wide range of possibilities to continue improving our team besides of course keep trying to get the letters that were previously available. From now on seven new players in amethyst version are available if you complete the current and historical collection of their corresponding team with very varied options.

New Letters Moments arrive at NBA 2K18 My Team depending on the performances in real life very interesting this week although without as much variety as we are used to. There are few options for users who do not have a lot of money. Austin Rivers and Josh Richardson are the only cards that do not reach the sapphire version among the novelties. The good thing is that the letters that came out before are still falling in price or receiving better versions so they become more accessible to everyone.

The "rookie" Donovan Mitchell is set great games so it is worthy to get a letter of 85 average very versatile able to score in many ways and with a physique and defense that combine to give a great result. In addition Jrue Holiday is a great game organizer that fits in many styles. Jimmy Butler receives his first improvement of the season increasing his shooting statistics. Finally Nikola Vucevic climbs to sapphire further improving his multiple ways of scoring inside and out although he remains weak in the defensive section.

Already in the rubies we have several options according to the style of each although the money in your pocket will be decisive. Booker's 46 points make him worthy of having a ruby ​​version that looks like a great shooter in addition to improving in all aspects that do not pertain to the release. The great season of Andre Drummond also allows another improvement where his imposing physique allows him to dominate under both boards. Already for the wealthy pockets two exalted players on both sides of the track come to the game. Kevin Durant after his triple-double against Hornets receives his first improvement of the year. Giannis Antetokounmpo continues to prove that he is a superstar in every game and his statistics in NBA 2K18 My Team improve in accordance.

Finally we must announce that the first players in amethyst version have reached the game. The 51 points of Bradley Beal make him worthy of this card which has incredible shooting statistics but also is able to penetrate and defend well thanks to his physique. Finally the most dominant pivot of the NBA DeMarcus Cousins who once was the first ruby also deserves a new card after his 40 points and 22 rebounds in the victory against the Nuggets. A letter that makes havoc in the painting and begins to be very dangerous in the medium and long distance. It also improves the defense the pending subject of good DeMarcus.

We Are The Cheapest Website For You To Buy NBA 2K18 Coins . So It Is Necessary To Purchase NBA 2K18 MT From Our Website And Enjoy The Gameplay Experience. Many Players Know We Are The Professional Game Agent With 100% Secure Guarantee. As Long As You Buy NBA 2K18 MT From Us You Will Always Be Enjoying The Lowest Price And Best Service Quality. We Provide The Cheaper NBA 2K18 MT For Sale Full Stock With All Platform. Here You Can Enjoy Quick Delivery 7/24 Hours Online Help. So Do Not Be Hesitate To Purchase NBA 2K18 MT From Us And Create Your Own Team.